Mpho Tutu meets with Anglican leaders in Toronto
The Rev. Mpho Tutu discussed the church's role in healing and reconciliation during a meeting with Anglican Church of Canada leaders in Toronto. Photo: André Forget

---
The Rev. Mpho Tutu, daughter of famous Anglican archbishop, Nobel Peace Prize laureate and anti-apartheid activist Desmond Tutu, visited the Anglican Church of Canada headquarters in Toronto earlier today to discuss the differences and similarities between Canada's and South Africa's experiences with truth and reconciliation commissions.
Tutu is in Toronto from April 28 to 29 to speak at the Community Inclusivity Equity Council of York Region's Diversity, Inclusivity and Equity Symposium on the topic of Truth, Reconciliation and Engagement. She reached out to Archbishop Fred Hiltz, primate of the Anglican Church of Canada, from a desire to hear about the Anglican church's experience of the process.
South Africa's Truth and Reconciliation Commission was established in 1995 and ran until 1998. Canada's was established in 2008, and will wrap up with a final event in June 2015.
Speaking to the Anglican Journal, Tutu urged Canadian Anglicans to embrace the "recognition that the injury wasn't solely individuals hurting individuals, but that it was a systemic hurt," and to acknowledge that "the roots of that systemic hurt have taken hold very deep in the soil of the nation, and that it takes more than just hacking away at a few odd branches to make it better."
She also stressed that "the ongoing commitment and the ongoing work of reconciliation is required" after the end of the official commission process in June. An Episcopal priest, Tutu is the founder of the Tutu Institute of Prayer and Pilgrimage based in Alexandria, VA.
"It was a huge privilege to meet her," said Hiltz, who, along with National Indigenous Bishop Mark MacDonald and Henriette Thompson, the national church's director for public witness for social and ecological justice, met with Tutu for over two hours.
"She was very interested in what was happening with the process in Canada—how it came about, how it's taken its course, what the church's role has been," said Hiltz. "And I think she was really interested in the way in which we were able to share with her our own church's commitment beyond the official time of the TRC's mandate."
Hiltz said that he found her thoughts on the scope of reconciliation particularly helpful, namely, her framing of reconciliation as "not so much about reconciling us back to a place we think we were, but rather reconciling us back to the kind of harmony that was at the beginning of time, in the garden, before the fall, when God, Adam and Eve and every living thing was living in beautiful harmony…It's not just a repair…it's actually the emerging of something brand-new."
MacDonald also found the discussion to be invigorating, stating that Tutu was "not only keenly interested in what we were doing," but that she "asked us very illuminating questions about aspects of the TRC process."
Noting that the commission in South Africa was quite different from that in Canada in how it was legislated and run—it had a strict and condensed timeline, for example, and was legislative rather than litigious—MacDonald said that comparing experiences of different commissions "allows us to imagine what something better might look like."
Back to Top
About the Author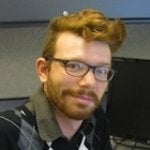 André Forget joined the Anglican Journal in 2014 as staff writer and social media lead. He also serves as managing editor of Whether Magazine, and his writing has appeared in The Dalhousie Review, The Winnipeg Review, and the Town Crier.