Canadian brings bridge-building skills to Communion
John Gibaut, current Director of the World Council of Churches Commission on Faith and Order, will replace Alyson Barnett-Cowan as Director of Unity, Faith and Order in the Anglican Communion. Photo: Bruce Myers
In March, Canadian ecumenist Canon John Gibaut will step into a new role as the director of Unity, Faith and Order of the Anglican Communion. Leaders in the Anglican Church of Canada have expressed their excitement about Gibaut's new position, stressing his skills and extensive experience in ecumenical work and noting that his appointment highlights gifts that Canadians bring to the broader church.
Gibaut is currently serving as director of the World Council of Churches (WCC) Commission on Faith and Order and has spent the past seven years doing ecumenical work in Geneva, during which time he was the principle editor of the groundbreaking WCC paper The Church: Towards a Common Vision in 2013. He replaces current director Canon Alyson Barnett-Cowan, also a Canadian, who has been in the position since 2009.
Commenting on Gibaut's appointment, announced on Oct. 9, Archbishop Fred Hiltz, primate of the Anglican Church of Canada was ebullient. "John is going to bring all of that experience of having been at the WCC ... I think that the Communion was very well served by Alyson Barnett-Cowan, and to have John Gibaut coming behind her, I think it's going to be a pretty smooth transition."
The department of Unity, Faith and Order is responsible for promoting and participating in dialogue with other denominations and expressions of Christianity, and in recent years it has also come to deal with some of the internal tensions inside the Anglican Communion.
Archdeacon Bruce Myers, co-ordinator for ecumenical relations for the Anglican Church of Canada's General Synod, pointed to Gibaut's skills as a bridge-builder as being a key asset he will bring to the position. "I think John is incredibly well-suited to step into that role for all sorts of reasons. He's just spent the last seven years as an agent of reconciliation within the ecumenical movement, working with literally dozens of different churches and expressions of Christianity on issues of trying to find theological solutions to some of our historical divisions."
Gibaut's own understanding of his role as an ecumenist is one rooted in his faith in the idea of Church as communion. Speaking to the Anglican Journal about the importance of dialogue in the life of the Church, he stressed the relationship between communion and unity. "This is the witness that the world needs. Communion is a gift by which the Church lives, but at the same time it is the gift that God calls it to offer to a divided and wounded humanity. So you and I can disagree sharply on an issue … but still, I am in Communion with you, and nothing can shake that. That is the witness that the world needs today from the Church."
Interestingly, Gibaut is the fourth Canadian to hold the position in the past 25 years. When asked if there was a special significance to this fact, Hiltz noted that within the Anglican Communion Canadians have always had a reputation for being good conversation partners. "They are known for their commitment to what I would call the fullness of ecumenism, that is, not just the faith and order stuff around ecumenism but the social justice stuff associated with ecumenism and being able to work together."
Myers also believes that the number of Canadians is significant. "Four out of five tends to suggest that it's more than just a coincidence. There's something that the Canadian church has a particular charism or vocation for within the wider communion when it comes to working for reconciliation, not just with other communions and churches in the world but within our own Anglican communion."
Gibaut's nuanced understanding of communion will certainly be important for the global Anglican Church, which continues to struggle with the question of how Christians who disagree on certain theological issues should relate to each other. But as Hiltz noted, Gibaut is prepared for the challenges of the position. "He's coming in with eyes wide open, and he's bringing a brilliant mind and a huge heart for the communion. And I think we're going to be incredibly well served."
Back to Top
About the Author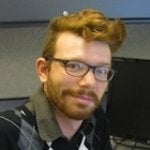 André Forget joined the Anglican Journal in 2014 as staff writer and social media lead. He also serves as managing editor of Whether Magazine, and his writing has appeared in The Dalhousie Review, The Winnipeg Review, and the Town Crier.